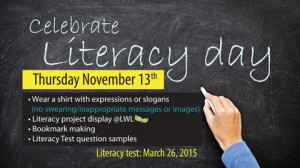 Columbia International College is welcoming Grade 9 students to its campus today as it participates in Canada's Take Our Kids to Work™ program.
The national program allows students in Grade 9 to visit the workplaces of their parents, relatives and friends to gain a better understanding of the working world and encourages them to thing about their future. It further supports career development by demonstrating the importance of education, skills development and training in the workplace.
Those students participating in Columbia's Take Our Kids to Work™ day have a fun-filled educational day ahead of them. Here are some of the things they can look forward to:
• Welcome address
• Tour of Ainsliewood
• Activities through Student Development
• Job Shadowing
Columbia hopes this experience will provide students with an opportunity to learn they type of skills needed in the workplace and better appreciate their parents' work.