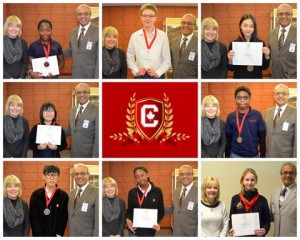 Yesterday afternoon, Columbia's Junior Middle School (JMS) students were presented with Top Subject Awards for their academic achievements in the 2014 fall semester.
Top Subject Awards are presented each semester to JMS students who achieve the highest mark in individual subjects. Last term, nine JMS students were recognized for excelling academically and were presented with a Class Honours certificate and a Columbia medal. Ms. Garell-Teti, Head of JMS,Ms.Willison and Ms. Foster , JMS teachers, and Mr. Rambarran, Principal, were at the ceremony to congratulate students and distribute medals and certificates to the winners. Congratulations to the JMS top achievers:
Award Recipient
Subject
Gr. 7
Nelly Okuwuolu
•French
•History
•Computer and Information Technology
•Language Arts
•Literacy and Social Justice
•Mathematics
Maria Petrenko (not pictured)
•French
•Science
•Art
•Music
•Drama
•Language Arts
Amy Ting Ting Huang
•Physical Education
Gr. 8
Kimberly Leixi Lai
•Music
•Language Arts
•Literacy and Social Justice
Nikolay Avilov
•Drama
Elizaveta Golova
•French
•Art
Sasha Khen Ir Li
•Science
•Computer and Information Technology
•Mathematics
Daye Fubara
•Physical Education
Aliyah Jimoh
•Music
JMS at Columbia
Columbia's unique JMS programming focuses on developing well-rounded young adults by evaluating students on their ability to communicate, understand, and apply the knowledge and concepts learned in class. Students are also taught the importance of becoming responsible Global Citizens by participating in the many character focused projects that are incorporated into their academic and extracurricular activities.
More information on JMS programming can be found by visiting the JMS sectionof our website.