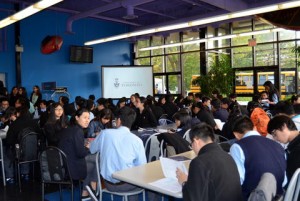 Boundless Opportunities
Columbia held another university information session today and was pleased to welcomed back a representative from the University of Toronto (U of T).
The University of Toronto is one of Canada's most renowned educational institutions. Known for its dynamic learning strategies and research capabilities, U of T attracts the best and brightest students from around the world.
Fast Facts 
• Three campuses – downtown Toronto (St. George campus), Mississauga, and Scarborough
• Home to the Rotman School of Management
• Partnership with Sheridan College offers degree-diploma combination
• One of the top 20 universities in the world
• Home to over 10,000 international students
University Partners
The University of Toronto is one of Columbia's eightUniversity Partners. With this partnership, graduates of Columbia are given conditional admission. There are also 10 admission scholarships, awarded annually, to the top 10 Columbia graduates who apply, receive admission to, and register at one of three U of T campuses for the September semester.
Thank you to the University of Toronto for visiting Columbia.
More information regarding all programs can be found by visiting their website. Information handbooks can also be picked up from UPO.