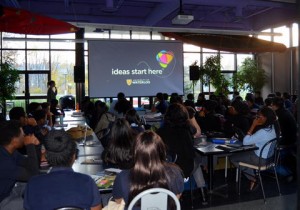 The University of Waterloo® recently stopped by Columbia to hold an information session for Columbia students. As an established institution, excelling in research, engineering and technology programs, the University recruits students with good academic standing and passionate individuals to bring forward new and innovative ideas.
Fast Facts
• "Canada's most innovative university" for the past 23 years
• home to the largest engineering faculty in Canada and largest actuarial science program in North America
• first school in Canada to adopt the co-op learning program
• the world's first kinesiology department
• 1 main campus in Waterloo; 3 satellite campuses in Cambridge, Kitchener and Stratford
Programs are available in 6 faculties and may incorporate lab work as well as the option of completing a co-op placement. The university also offers many academic and social support services including tutors in residence, a Student Success Office, and International Student Office, and a Student Life office.
University Partner
As one of Columbia's University Partners, graduates of Columbia who attend the University of Waterloo® receive special benefits including;
• 4 designated Entrance Scholarships for Columbia International College Pre-U graduates (4 x $3,000)
• Students with an average of 85% or above are guaranteed a Waterloo entrance scholarship
The University's Mathematics department will hold a separate workshop for Columbia students on Dec. 1.
For more information regarding programs, admissions, and scholarships, visit the University of Waterloo® online.