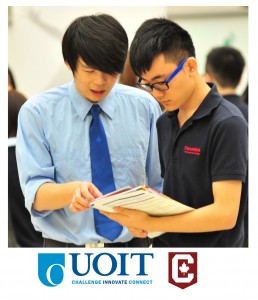 This afternoon, Columbia was pleased to host the University of Ontario® Institute of Technology (UOIT). Recognized for its "award-winning technology enriched learning environment" and its innovative research, UOIT is one of Ontario's fastest growing universities. The school is dedicated to research and has state-of-the-art facilities used for research in all areas ranging from hydrogen production to automotives.
Fast Facts 
• Bachelor, Master and PhD programs available
• Programs of study include Sciences, Engineering, Nursing, Business, Teacher Education and Criminology
• Co-op placements, internships, and research opportunities with industry and community partners
• Recipient of nine Canada Research Chairs
• Ranked high by the Globe and Mail for Class Size, Campus Technology, Ease of Course Registration and Buildings and Facilities
University Partners
Since 2004, Columbia and UOIT have proudly partnered to extend benefits to Columbia graduates through our University Partners program. Graduates of Columbia who attend UOIT are eligible for two designated entrance scholarships valued at $2000 each. Also, in lieu of TOEFL, all Columbia International College Pre-U graduates with Pre-U English marks of 70%+ are eligible for admission.
Thank you to UOIT for visiting today.