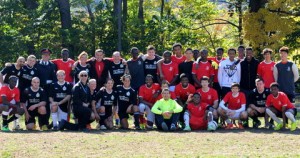 Columbia's Varsity Boys Soccer team lit up the pitch today as they defeated members of the Hamilton Police Service 5-1.
In a friendly match played on the Ainsliewood field, the Varsity team showed spectators why they are one of the leading soccer teams in Hamilton. While their victory did not come easy, they worked as a team, maintained their composure and stayed focused on performing to the best of their ability. Both sides made it very difficult for the opposing team to concede a goal yet in the later part of the second half, the Cougars found a weakness in the Hamilton's defense.
Games between the Varsity teams and members of the Hamilton Police Service have become tradition here at Columbia, occurring twice a year in the fall and spring. Along with bringing staff and students together outside the classroom, games promote school spirit and allow them to interact with members of the community.
Columbia would like to thank Coaches and referee Mr. Erind and Mr. Freddy, the members of the Hamilton Police Service and the Varsity Team, and all the students and staff who came to watch.
A special thank you to Hamilton Police Chief Glenn De Caire for coming out to support the teams!