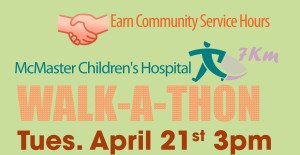 Tomorrow a group of Columbia students will be raising funds and awareness for one of Canada's most notable pediatric health sciences centres, the McMaster Children's Hospital (MCH).
Students will walk from Hamilton's Bayfront Park to the school's Ainsliewood building – a total of 7km – in support of the organization and its academic research. The Walk-a-thon will begin at 3 pm and will teach students the importance of giving back and serving the community. At the end of the event, students will discuss how they made a difference in the lives of various children in the Hamilton community.
Community Service at Columbia
Columbia's community service program promotes volunteerism and helps students explore their community and discover the power of making a difference. By participating in community service activities, students learn valuable work experience, as well as leadership skills and social awareness.
Columbia proudly supports the Hospital by donating proceeds of its Casual Days and holding the Walk-a-thon event yearly. Last year, students and staff set a new record by raising a total of $11,040.95 for the Hospital.
McMaster Children's Hospital 
The McMaster Children's Hospital is part of the Hamilton Health Sciences' family of hospitals dedicated to improving the physical and emotional challenges facing children.
To learn more, click here.