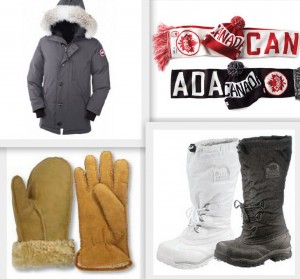 Winter has come early this year in Ontario and although the first official day of winter is in exactly one month, Dec. 21, cities around the province are already experiencing winter-like weather.
Adjusting to the change in temperature may take some time but the best way to cope with this change is to dress in proper winter attire. To ensure that everyone is prepared for the low temperatures and cold fronts that define Canada's winter season, we want to offer some tips for staying warm this winter.
1. A Warm Winter Coat
• An insulated winter coat is the most important thing you can buy for winter. Coats should be down-filled and waterproof to maximize warmth.
2. Dress in Layers
• Wearing more than one layer keep your body warm and insulated. Longjohns and sweaters are a few things you can layer to help keep you warm.
3. Keep your Feet Dry
• Waterproof and insulated winter boots make walking through the snow easy and painless. Wool socks are also recommended to keep you warm and dry.
4. Accessorize
•Hats, scarves, mittens, gloves and earmuffs are just as important as coats and boots. They will keep your body covered and ensure you maintain your body heat.
Winter clothing can be easily found in stores across Hamilton. If you need to stock up on winter garments, consider visiting these local retail locations:
• Jackson Square (2 King Street West. Hamilton)
•Westdale Village (King Street West, -from Cline to Sterling Ave- Hamilton)
• Limeridge Mall (999 Upper Wentworth Street, Hamilton)
Remember, to check the weather on the school's homepage, visit the Weather Network, or local news sites such as CBC Hamilton and CHML to find out the weather conditions of the day.