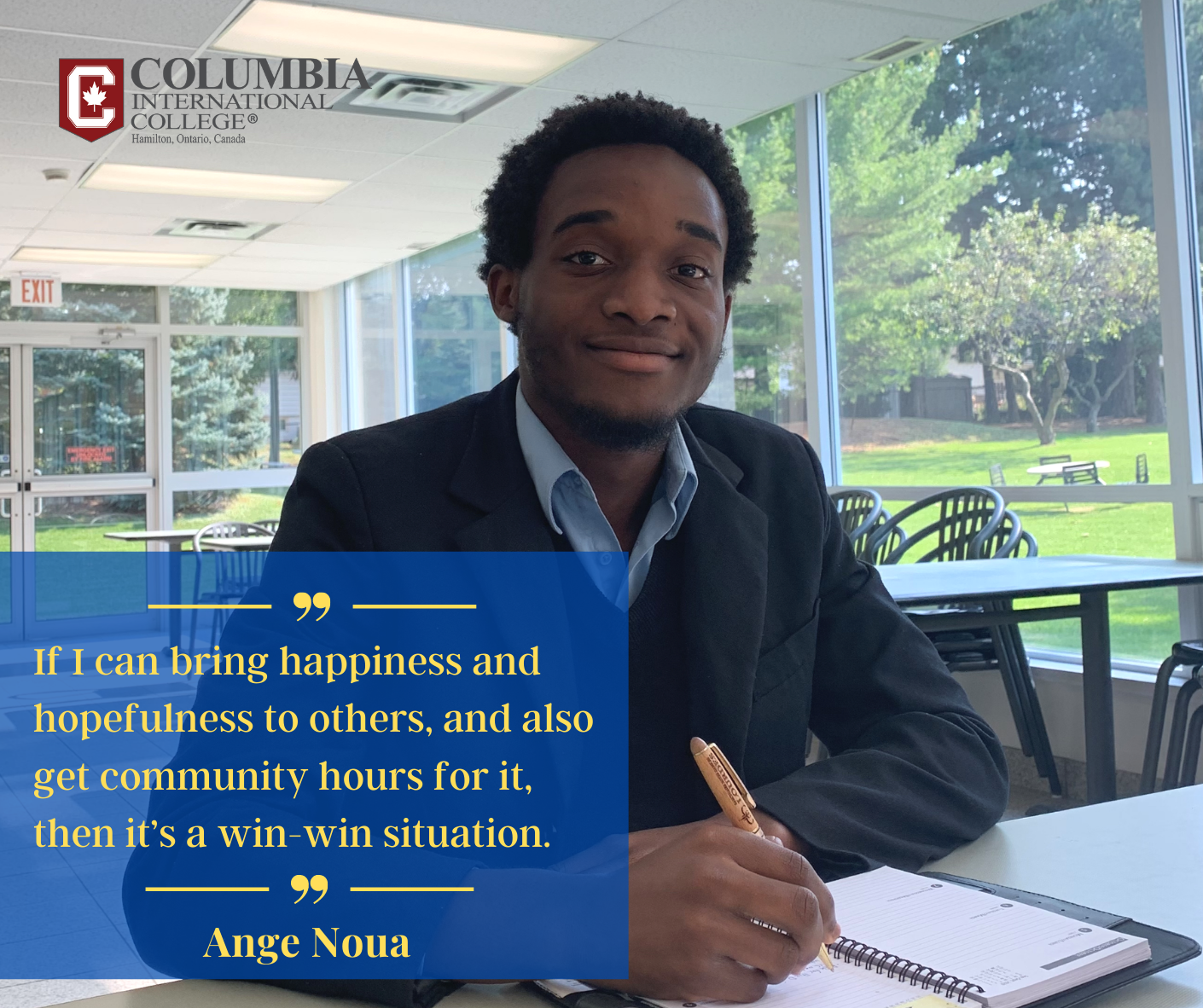 Over 100 CIC students have participated in this heart-warming opportunity where they write letters to elderly citizens while earning community service hours.
Older adults in long term care facilities are not allowed any visitation from their family members during the COVID-19 pandemic.
Letters and Smiles was launched by two Western University students focused on writing letters to older adults who are isolated, lonely, or just in need of a friend to feel connected to during the COVID-19 pandemic.
Ange Noua is a Grade 12 student from Ivory Coast. He feels the COVID-19 is a challenging phenomenon for everyone, especially the elderly who have to self-isolate because they are more vulnerable to the virus.
Ange believes that to help alleviate the social circumstances of the elderly, writing a letter for them can positively impact their welfare.
"If I can bring happiness and helpfulness to others and also get community hours for it, then it's a win-win situation."
CIC Activities instructor Mia Galesic says students have expressed tons of encouragement and positivity in their letters.
"The students write about a broad range of topics with some including hobbies, interests, daily lives, encouraging words, favourite movies/songs/shows/book, cooking capabilities, etc."
For more meaningful opportunities to support the communities around us, students can visit the Student Leadership and Development Office (S244).
Ange's Letter:
Hi there, 
My name is Ange but you can call me Angel. My parents named me as such because I'm an angel and behave as one… hmm not really. 
I'm born in the land of Ivory Coast, located in West Africa. It's a tropical region which means that the temperature is occasionally hot and dry.. but especially hot. It's definitely hotter than the average weather in Canada or that you are accustomed to so it's always a good time to go to the beach or play soccer outdoors. 
Anyways, how are you? I hope you are fine because I am feeling great! Why, you may ask. 
Well, today there's lasagna for dinner! Really… there's lasagna. Heads up, I love lasagna. So if I visit you someday, at least you know what to cook for me. Also please don't forget the garlic bread, a must. For some reason, I feel that you are smirking while reading this message but I'm genuine. I'll only eat lasagna with garlic bread. Don't worry I won't come empty handed. I will bring a handful of… oh it's a surprise so just wait for my arrival.  All this talk about food is starting to make me feel hungry. 
I guess I am pretty good at painting vivid pictures through text. Did you know that it's a talent? Yes, for me it's natural. Actually I was considering becoming a poet but it is way too personal for me so I opted for becoming a comedian. The only downside is that I doubt my parents will be eager to find out that passion of mine. That's why I took a different route and now I'm focused on becoming a medical doctor. Weeks ago, I didn't know what to specialize in my medical studies but the thought of being a pediatrician started to entice me as the days passed. In fact, I have a chemistry test and math calculus vectors test to prepare in order to pass my classes. So if I may, I'll leave you this message. 
Wish me good luck on the test. Goodbye!
Ange