Masks, temperature check, screening survey, deep cleaning, quarantine, no visitors policy, cohorting and many other safety protocols are implemented at CIC to protect students and staff beyond the requirements of Public Health.
At CIC, we have a Safe School Committee that meets weekly to review the Health and Safety protocols and new developments of the past week. We take the safety of our community – students, teachers and staff – very seriously. Some of the safety measures which have been implemented since February 2020, like quarantine for new students, screening staff, bus drivers, and students entering School and Residence buildings, and banning non-essential visitors, were implemented much earlier and at a higher standard than that imposed by the public health authorities.
As the pandemic progressed, the protocols have also evolved and been reviewed by CIC's  Safe School Committee on a regular basis.
Before coming to work everyday, teachers and staff must submit a survey to confirm they are free of symptoms and haven't been exposed to the COVID-19 virus. Upon entering school and Residence, they have their hands sanitized, wear a mask and get their temperature checked – and these steps must be in this particular order to maintain the right protocol.
In the morning, before boarding the school bus, students are screened before leaving the Residence. When returning from school, all students sanitize their hands and have their temperature checked before entering their bedrooms. Bus drivers are also screened.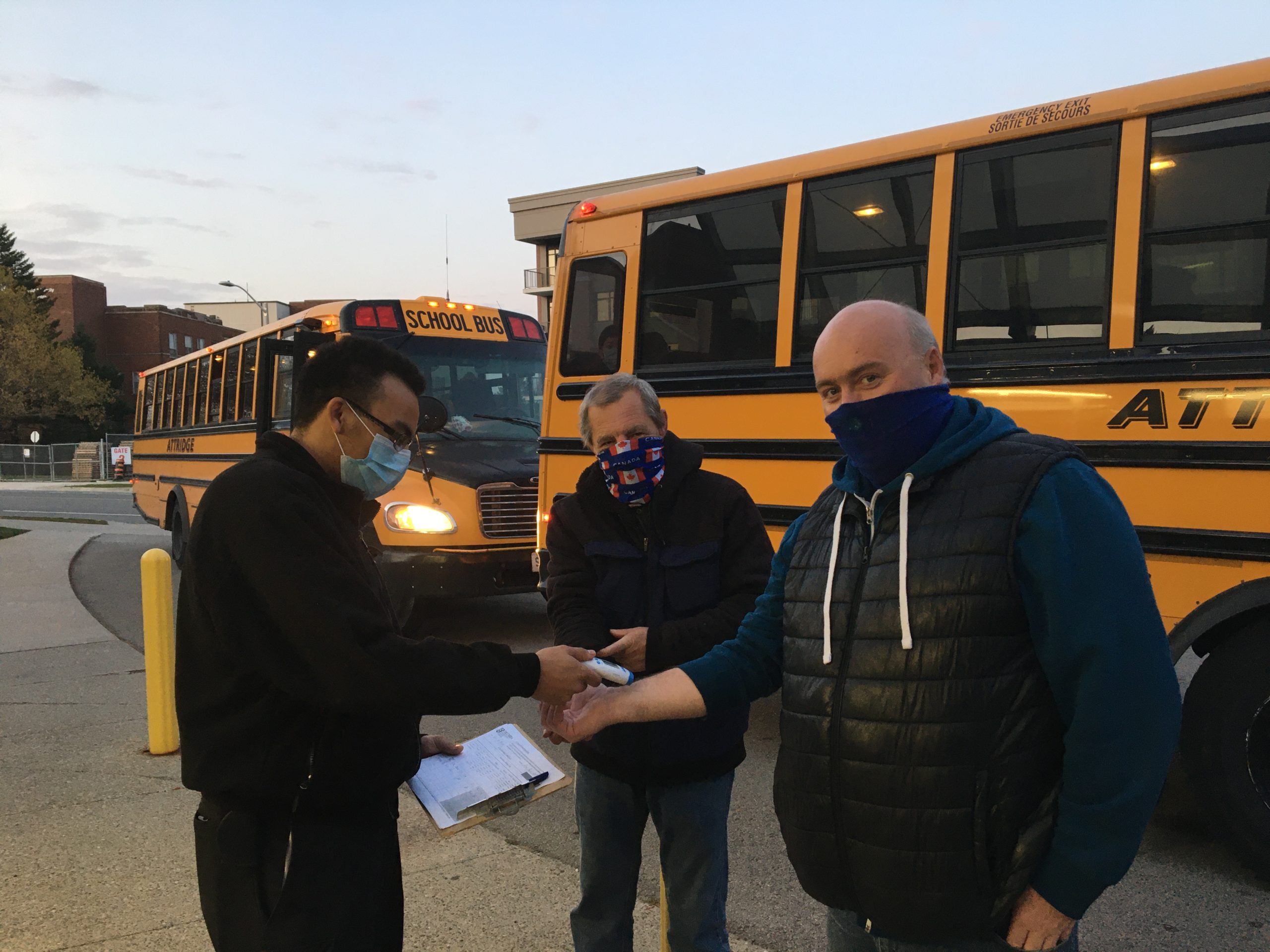 Mask, Hand Sanitizer, Plexiglass and Social Distancing
Masks, face coverings, or face shields are worn indoors at all times except when eating or inside Residence rooms. While eating in shared spaces, social distance of a minimum of 6 feet is kept from each other. 
Staff is required to wear double layers of protection (mask and face shield or mouth guard and face shield) when meeting with students within 2 meters or while conducting indoor activities.
We have installed plexiglass barriers on front desks and workstations, so staff and students have extra protection.
Hand sanitizer is available by the entrance of every building, cafeteria and classroom; and around residences. Free refills are available to all staff and students.
Classrooms, activities and other events have been adjusted to observe the minimum required 2 meters (6 feet) of social distancing. 
Quarantine and Self-Isolation
Students arriving from outside of a CIC Residence,including those who choose to go home during the December Winter break, are required to quarantine for 14 days and take a COVID test before sharing a room and classroom with other CIC students. Studying continues remotely during quarantine. They receive meals and snacks in their room, and have a medical check-up and support from the Total Care team.
Our goal is to create students' bubbles and minimize community exposure. Our rich Student Life activities at school and in Residence allows students to keep active, engaged and happy while maintaining a close circle.
Increased Cleaning & Disinfection
At the end of all school days, highly effective and safe disinfectants are sprayed with a fogging device in all classrooms and corridors to make sure maximum safety is maintained to a higher standard.
Increased cleaning of all high touch points such as door handles, elevator buttons, water fountains and washroom facilities occurs four times a day. Garbage containers in the public areas are also cleared four times a day.
Meal Servers and Food Deliveries
Disposable containers are used by Chartwells staff in serving students to ensure minimal touch between staff and students. Serving staff wear protective equipment, including facial shield, masks, mouth guards and gloves during meal services. 
Food delivery service personnel cannot enter any CIC buildings. Packages are left outside the first door of the residence vestibule for disinfection before the packages are allowed to be brought into the building.
Wellness and Physical Support
CIC Mental Wellness Counselors are available day and evening, weekdays and weekends. Supervised recesses allow students to have fresh air breaks throughout the day while being mindful of social distancing.
CIC Medical Team continues to meet and assess students in the residence and school who are not feeling well. Students with any flu-like symptoms can stay in Residence and learn remotely if they are well enough to do any learning.