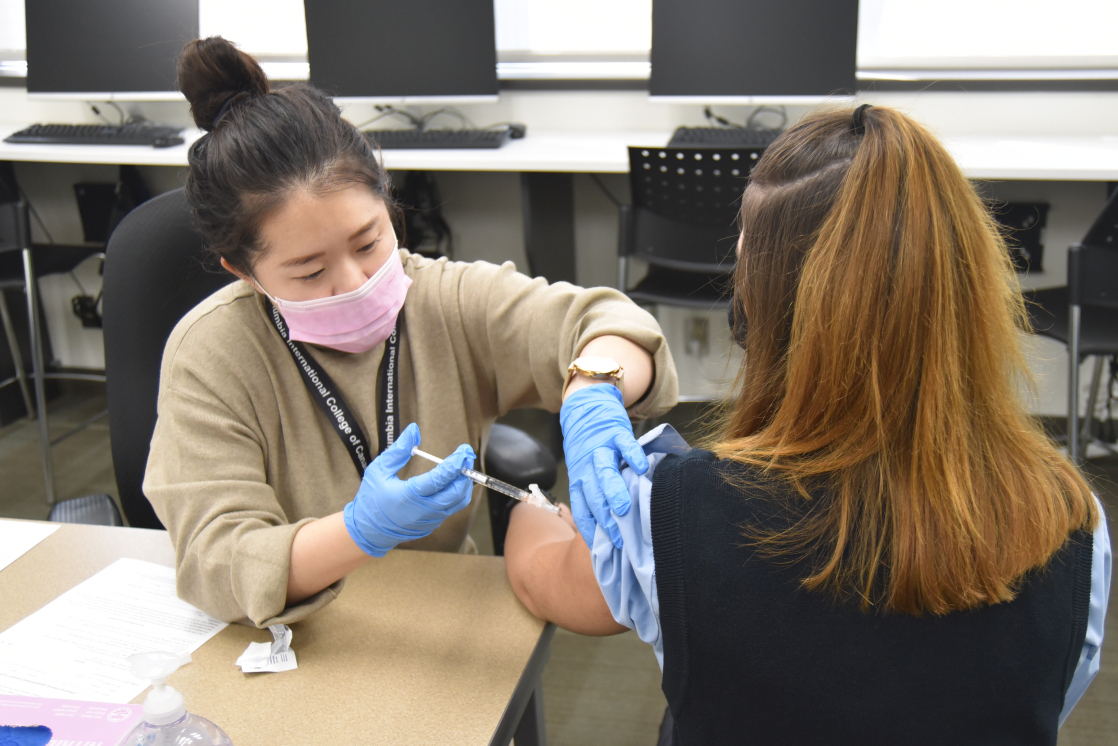 CIC Medical team is offering free flu vaccines for students and staff on site. With flu season upon us, we would like to prevent it in the CIC community. 
Immunizing Students and Staff
Participating Students were called according to their classroom capacity and received the flu vaccine at prearranged times. Starting this week, students who have missed the prearranged time can come to the CIC Medical Clinic to receive the flu shot on a walk-in basis.
Our CIC Medical Team is also offering flu shots for employees in order to ensure our entire school community is protected. 
Importance of Taking the Vaccine Early in the Season
The flu vaccine takes approximately two weeks to take effect so it is important to get immunized earlier in the season to avoid getting sick.
Preventing the Flu During the COVID-19 Pandemic
As we continue to live with COVID-19, our goal is to protect our students' health and reduce symptom confusion by minimizing the spread of the flu. 
In addition to getting the flu shot, we should continue practicing safety measures such as handwashing and masking to reduce the spread of viruses.
Covid-19 Tests Are Now Available at our CIC Medical Clinic 
COVID-19 tests are in high demand and it can take some time to have one booked in regular testing centers. Thankfully, CIC students don't need to go to a testing center. Hamilton Public Health has authorized the CIC Medical Clinic to perform Covid-19 tests. Students in quarantine get tested before they are cleared, and any students who want a COVID test for their peace of mind can request it as well. 
This is a very convenient and important service for our students and the cost is covered by their medical insurance.
Prior to testing, parents are contacted and the student is required to sign a consent form. The CIC Medical Clinic arranges the test, which will be done in the CIC Residences, in the comfort of the student's room. The nasopharyngeal swab test is the same test performed by Public Health and will be conducted by our nurses. 
Once the specimens are collected, our nurse team drops them off for evaluation at Hamilton's Public Health Ontario lab. The CIC Medical Clinic receives the test results by fax, and the results are available upon request by the students or their parents