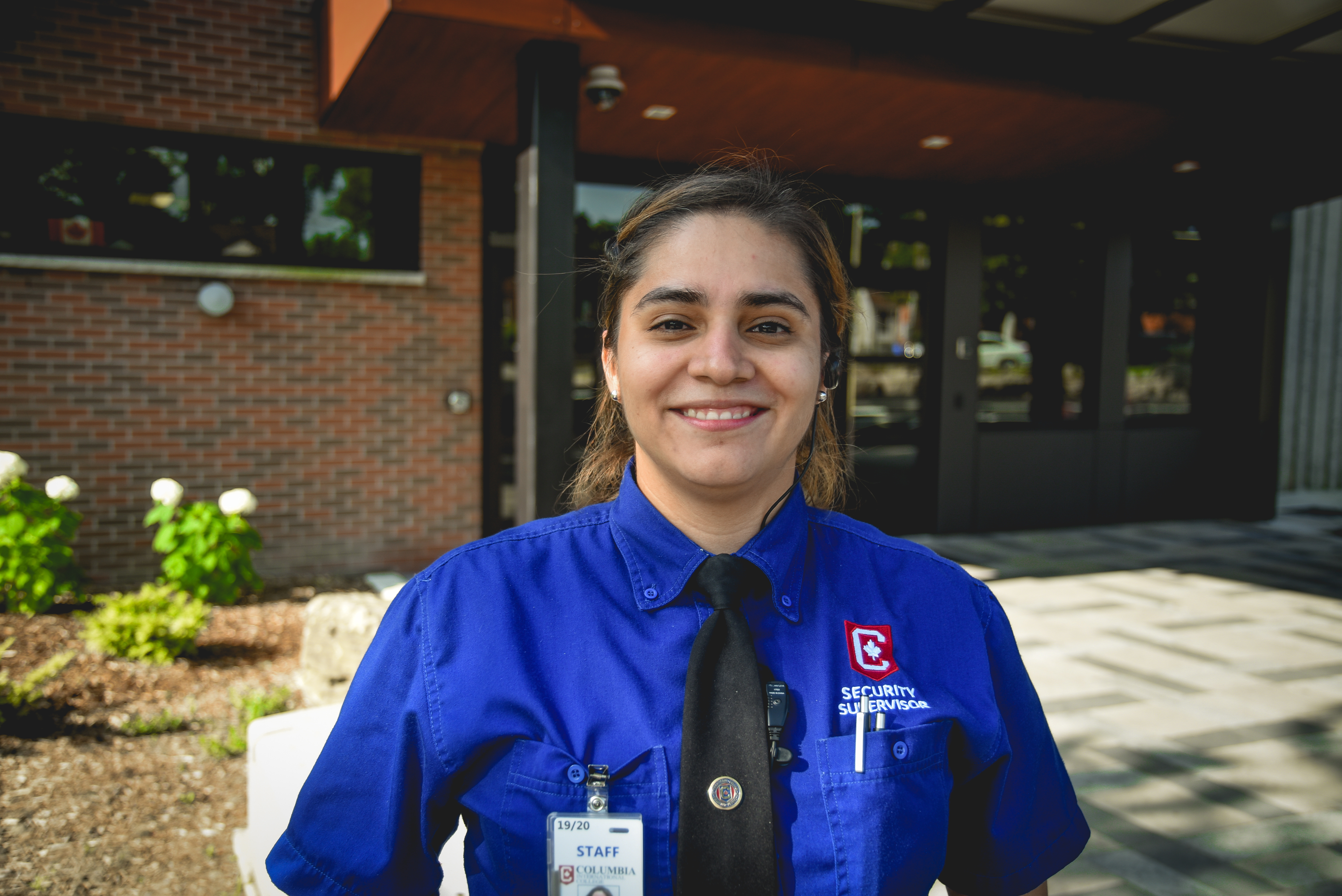 All the way from the City of Medellin in Colombia, Vanessa Restrepo recounts her growth from coming to Canada at the age of 19 to working hard to get to where she is today as the Security Supervisor at Columbia International College.
"One of the best pieces of advice I ever received was that I could accomplish anything, as long as I stayed true to myself. All I have to do is believe in myself."

– Vanessa Restrepo
In April of 2006, Vanessa came to Canada and was greatly impacted but notes that it was all positive.  Vanessa describes the shock she felt from coming from her home country to Canada.  She lets out a whimsical laugh as she recounts, "I remember thinking how the architecture in Canada is very different from Colombia.  Everything felt like it was three times bigger, and what I really liked about Canada was how open minded people were."
When asked if she's traveled anywhere before, Vanessa responds with, "I've been to Germany, France, Belgium, Holland, Argentina, Brazil, Ecuador, Mexico, Nicaragua, Trinidad and Tobago and the United States."  Prompted to answer further as to why she's traveled to multiple places, she explains, "I traveled to these places for my competitions."
Something many people may not know about Vanessa is that she loves karate.  Vanessa began competing at the age of 12, and when she was 14 she represented the country of Colombia.  When Vanessa moved to Canada, her love for karate stayed with her.  Her coach from Colombia helped Vanessa find a dojo in Canada where she could continue to learn the art of karate and obtain a black belt.
Vanessa notes how proud she is to have represented both Colombia and Canada in her competitions during her athletic career.  In the Pan-American Championships she's won bronze, silver and gold medals.  "It took me a few years but I ended up making the national team.  In 2012, I won gold at the U.S. Open and won gold at the North American Cup," says Vanessa.  "In 2014, I represented Canada in the World Championships and I obtained 17th place from around 60 participants in Germany too."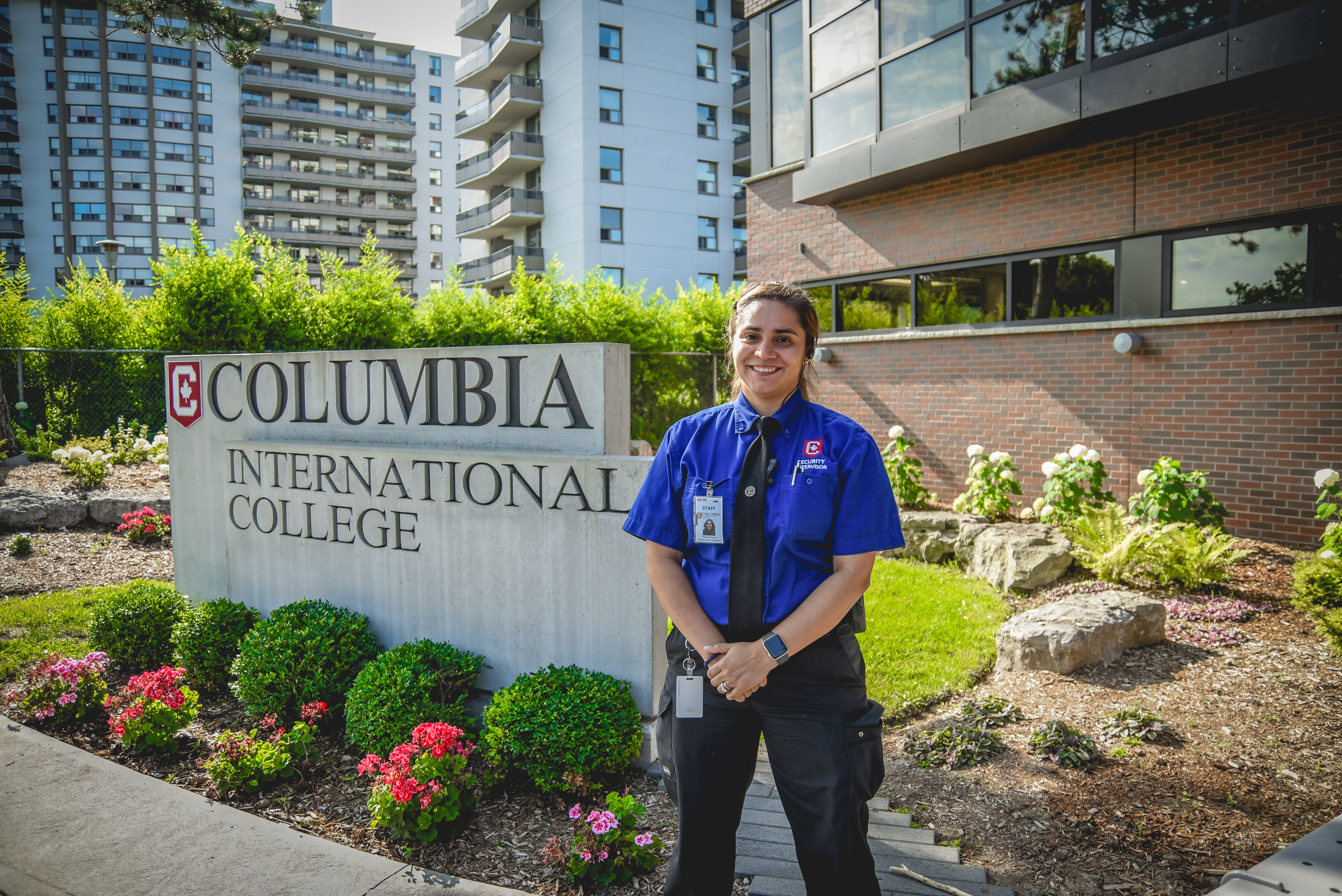 Vanessa's goal in terms of her career path has always been the same – wanting to help people.  Where she once thought of going into the medical field, she redirected and decided to get into law enforcement.  "I get happy when I help people.  I like to see their faces when whatever issue they are going through is solved, and to know that I helped or contributed to that makes me happy," says Vanessa.
Within a year of working at Columbia International College, Vanessa found herself in a leadership role and promoted from a Security Officer to a Security Supervisor.   Vanessa explains her drive to always work hard and be dedicated in her work no matter what position she's been in.  "One of the best pieces of advice I ever received was that I could accomplish anything as long as I stayed true to myself and dedicated myself to my work.  All I have to do is believe in myself," says Vanessa.  "Being a supervisor is a big responsibility because you have to take care of the staff, students and sometimes the public – and I like being in that role.  I like being able to help other people."
"What I like most about working at CIC is being able to interact with people from different parts of the world." – Vanessa Restrepo
In one word Vanessa describes CIC as an opportunity, for this reasoning Vanessa explains, "I see myself growing with this company, and I've been given the opportunity to grow and to be a leader, and I can help people and guide them on different paths."  Vanessa describes her time here at Columbia International College as one that has been good to her.  There is an appreciation for all the people she has met at the school as Vanessa concludes, "What I like most about working at CIC is being able to interact with people from different parts of the world."