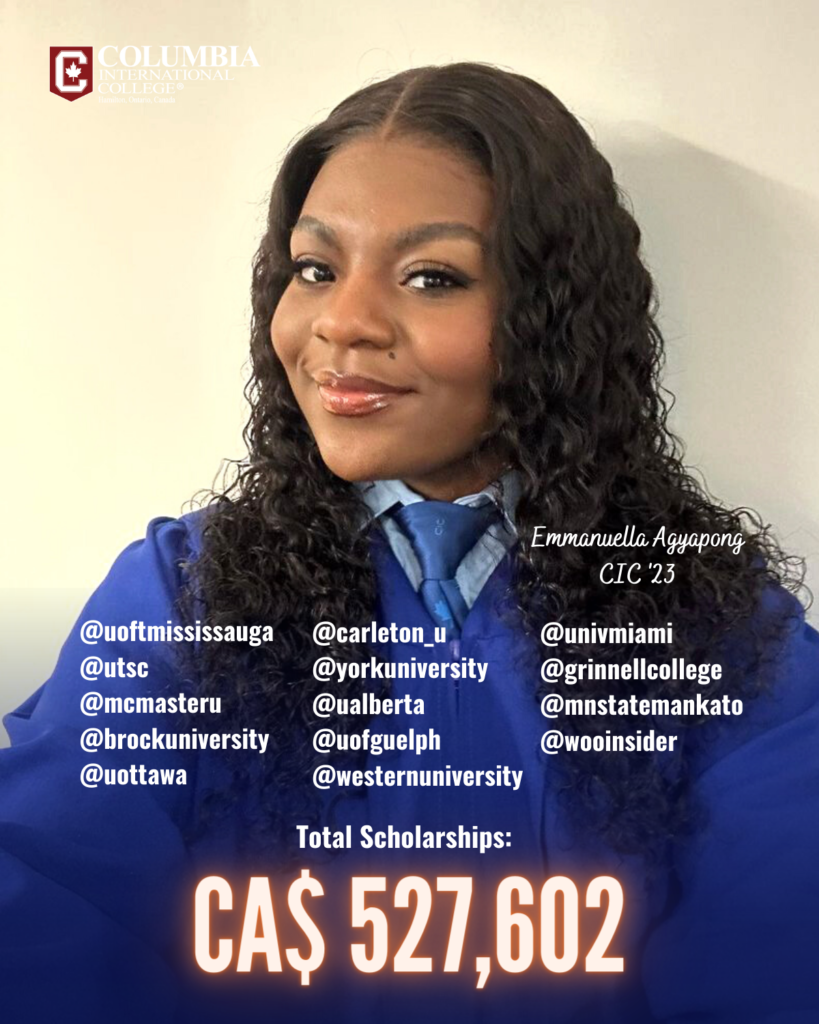 Emmanuella Agyapong, the recipient of the highest university entrance scholarships among the class of 2023 graduates, takes a moment to reflect on her extraordinary journey at CIC since 2020.
I would say my biggest achievement at CIC was winning the t-shirt competition for Orange Day. All the preparation and research put into making the design made me glad that it was recognized.
Having learned about the history behind The Truth and Reconciliation and being able to represent the breakthrough and freedom of the Indigenous through my design only keeps me in awe.
After careful research of Norval Morrisseau, combining his style and color combinations with the design only felt right, for he is the Godfather of Indigenous art after all!
The most important people in my CIC journey are my drag-obsessed math teacher, Ms. Leanne, and my bubbly, travel-obsessed, and loving art teacher, Miss Kakoz! I am grateful for the relationship I was able to create with them inside and outside of the classroom.
From having mini-podcasts with Ms. Leanne about girl topics and of course math, to funny highlights when Ms. Kakoz constantly tries to calm me down about almost every assignment I had to do outside of my comfort zone.
They taught me the real essence of the Total Care Education system here at CIC. They always hug me with a proud smile on their faces. And yet before I knew it, it was finally time to bid goodbye to my beloved mentors and companions. As I would say in Twi, Medase!
A round of applause for what Emmanuella has achieved.
✅University of Toronto, Mississauga (Commerce)
✅University of Toronto, Scarborough (Management)
✅McMaster University (Business)
✅McMaster University (Integrated Business & Humanities)
✅Brock University (Business Administration)
✅Carleton University (Commerce)
✅University Of Ottawa (Management Studies)
✅York University (Commerce)
✅University of Miami (Economics)
✅University of Alberta (Bachelor of Commerce)
✅Minnesota State University (Business)
✅Grinnell College (Business)
✅Western University (Social Sciences)
✅University Of Guelph (Economics)
✅Wooster College (Business)
✅Total Scholarships: $527,602