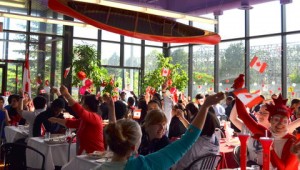 Last week, Columbia held its last International Cuisine Series of the semester that celebrated Canadian culture. Students enjoyed a truly Canadian experience as they attended a special BBQ dinner prepared by Sodexo.
The menu included many Canadian delicacies including:
• Apple and Cheddar salad with Maple dressing and candied walnuts
• Butternut squash soup
• Quebec Poutine
• Maple Walnut Salmon
• Grilled mixed vegetables with Québec goat cheese
Throughout the evening, students and guests participated in numerous activities, including a donut eating contest, in which both staff and students participated.
Cuisine Series at Columbia
Columbia's International Cuisine Series is a monthly event that gives students the opportunity to learn about different cultures and practice key values such as respect and inclusiveness. Students from all regions – from Latin America to South and South East Asia- volunteer each month and are responsible for picking the menu, organizing the evening's activities, and hosting the dinner.
Thank you to all our student volunteers, all students and staff that attended, and our Student Development team for organizing the event. A special thank you to Sodexo for preparing another delicious cuisine series dinner.
Photos of the dinner can be found on our Facebook page.