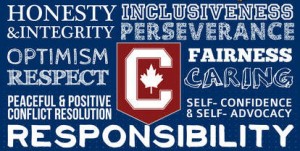 "Goodness is about character – integrity, honesty, kindness, generosity, moral courage, and the like. More than anything else, it is about how we treat other people. – D. Prager"
Columbia is celebrating Character Week!
Students at Columbia will be celebrating good character all week long as promote the school's Character keys during Character Week. Different Character keys will be highlighted each day and students will be challenged to complete activities that reflect the different vales;
Mon, Oct. 20: Responsibility – Students receive a ping pong ball to care for the entire week. They are also reminded to bring the ball to school each day to complete the ping pong challenge.
Tues, Oct. 21: Respect, Caring – Students show their appreciation to friends, teachers, family and others, by creating and giving out thank you cards.
Wed, Oct. 22: Inclusiveness – A "Mix-it-Up" lunch activity encourages students to reach out to others and meet new friends. Students are encouraged to take selfies so we can create a "selfie" banner to showcase our diversity.
Thurs, Oct. 23: Honesty, Integrity and Caring – Students will participate in a Character Truth and Dare Challenge.
Fri, Oct. 24: Perseverance – Students will learn the value of persevering through a Minute to Win It Challenge.
Activities will be held in the Maple building from 11:50 – 1:10 p.m. and between 12:30 – 1:50 p.m. in the Ainsliewood building (Living Wall Lounge). All students are encouraged to participate.
Character at Columbia
Columbia is devoted to building Character in its students who pledge to practice 10 important Character traits. Each month, a different Character trait is taught and incorporated across the academic and extracurricular curriculum. Character education plays a large role in student life and aims to create responsible global citizens.