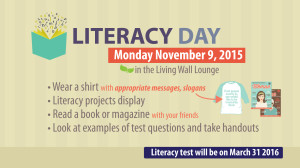 Columbia International College is organizing a day dedicated to literacy as students prepare to write the OSSLT – Ontario Secondary School Literacy Test.
On Monday, November 9th, the school will encourage and promote literacy by holding Literacy Day.
The day will feature many great themed activities and students will be encouraged to visit the Living Wall Lounge during periods 2, 3 and 4 to:
review student literacy projects
borrow a book or magazine to read independently or with friends
review examples of test questions and take handouts to help prepare for on the OSSLT
Students will also be encouraged to wear a shirt with expressions or slogans for others to read (must not contain inappropriate messages or images).
Visit Mrs. Youn in room 235 for more information about Literacy Day.
OSSLT
The OSSLT will be written on March 31st, 2016. Leading up to the test, Columbia will hold workshops and information sessions to help students prepare for the test.
The OSSLT measures student's reading and writing skills by testing their ability to understand, interpret, and apply the diverse concepts and material. As a provincial initiative administered by the Education Quality and Accountability Office –EQAO-, the Test promotes lifelong learning by developing skills that are needed for success. All students who study in Ontario must successfully write the test in order to obtain their Ontario Secondary School Diploma.