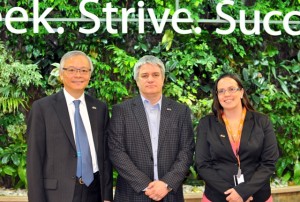 Last week, Columbia was honoured to welcome Canada's Trade Commissioner to Brazil, Mr. Paulo Orlandi to its campus. He met with staff, toured campus and learned about our educational partnerships in Brazil.
Mr. Orlandi was in Ontario to attend the Construct Canada Trade Show in Toronto, held Dec.2-4, where he supported and encouraged Canadian institutions and companies to develop business agreements and partnerships in Brazil.
Canada's Trade Commissioners
Canada's Trade Commissioners help businesses invest abroad and attract investment and develop partnerships. Trade Commissioner Service offices around the world help Canadian business break into local markets and forge business and communications partnerships.
We would like to thank Mr. Paulo Orlando for visiting Columbia.