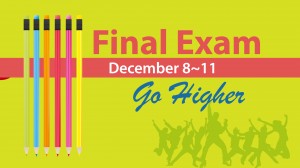 With the winter break quickly approaching, students are busy preparing and studying for their final exams, being written December 8-11. To ensure students are well prepared for their final exams, we would like to offer some useful study tips.
1. Start early – Don't wait until the night before your exam to start studying. You should already be reviewing your notes and making your own personal study guide. If you haven't started studying yet, STOP procrastinating and open your books!
2. Make study notes – Sometimes putting the information you have learned into your own words is easier to understand. By making your own notes you can paraphrase class materials and see how much you really understand what you have been taught.
3. Test yourself – Read through old assignments and tests and re-do the exercises. This is a great way to review class material and will help you identify your weaknesses.
4. Study in groups – Sometimes it is easier to study with a group of friends so you can quiz each other on what you have learned in class. Group study is also a great way to brainstorm and come up with new ideas.
5. Get plenty of sleep – Getting the right amount of sleep is very important. Your body and brain need to rest for you to function at your highest capacity. Ensure you get a good night's rest and don't stay up all night studying.
6. Stay focused and positive – Focus on studying and don't get discouraged by something you don't understand. Remember you can always ask a friend or a tutor for help. Have a positive attitude and don't doubt yourself.
Good luck to all students and happy studying!