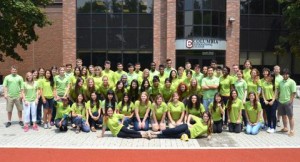 In just under one week, our Learn English and Discover Canada Summer Camp program officially begins!
Our Summer Camp staff, known as the Green Team, is just days away from welcoming campers from around the world to Columbia and Canada. Having recently completed their training, the dynamic team is excited to meet campers and provide high quality instruction. Throughout the summer, the Green Team will accompany summer campers on fun excursions and trips, while teaching them English and exposing them to Canadian culture.
Learn English and Discover Canada
Columbia's ESL Summer Camp program welcomes students (aged 9-19) from around the world.
Popular camp highlights include;
• Weekend trips to Bark Lake, Ottawa, and Québec
• Day trips to Niagara Falls, Medieval Times, CN Tower, Canada's Wonderland
• Talent Show
• End of Camp Graduation Ceremony
More information about camp programs can be found by visiting our website.
Stay in touch with the Green Team this summer, follow them on Twitter:@cic_summer