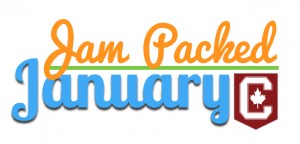 With the new year comes a new semester and new opportunities to experience and get involved in student life. January's event schedule is full of great activities in school and in residence. Visit the Student Development department in room S244 to learn more about, or to sign up for, these great events.
January Events
5-6: Orientation for new students
7: Classes begin
8: Varsity boys Indoor soccer game
9: Movie night
10: Niagara Falls trip
13: Varsity boys indoor soccer game
13-14: Club Fair
15: Clubs begin, Intramural tournament captains meeting
16: Mapleview Shopping Centre trip
17: Hamilton Snow Angels (Community Service event), Snow Tubing trip
19: Intramural basketball tournament
20: Indoor soccer tournament
23-26: Bark Lake leadership training
23: Hamilton Bulldogs vs. Toronto Marlies AHL Game
24: Hamilton Snow Angels (Community Service event)
26-30: Full ASEP survey
30: Pine Hall social event
31: Ripley's Aquarium of Canada trip
Students are encouraged to participate in these events as extracurricular activities play an important part of student life, providing unique experiences and fostering personal growth.