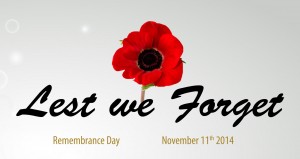 Today, we celebrate Remembrance Day; a national day of remembrance observed in Canada and many countries across the world. It is a day dedicated to honouring "the men and women who have served, and continue to serve our country during times of war, conflict and peace" (Veterans Affairs Canada).
Did you know … 
• Remembrance Day was originally called Armistice Day because it signified the end of World War I. On November 11, 1918 at 11 a.m. – the eleventh hour of the eleventh day of the eleventh month – Germany signed the armistice agreement that ended WWI.
• Over 100,000 Canadians have died serving our country.
• It was common for poppies to grow over soldiers' graves soldiers and on battlefields. As a result, the Poppy is used as a symbol of Remembrance.
• The famous war poem "In Flanders Fields" was written during the battle of Ypres by Canadian Lieutenant Colonel John McCrae. After seeing battlefields and soldiers' graves covered in poppies, he was inspired to write the poem which has been adopted as the unofficial anthem of Remembrance Day;
In Flanders fields the poppies blow
Between the crosses, row on row,
That mark our place; and in the sky
The larks, still bravely singing, fly
Scarce heard amid the guns below.
We are the Dead. Short days ago
We lived, felt dawn, saw sunset glow,
Loved, and were loved, and now we lie
In Flanders fields.
Take up our quarrel with the foe:
To you from failing hands we throw
The torch; be yours to hold it high.
If ye break faith with us who die
We shall not sleep, though poppies grow
In Flanders fields.
– John McCrae
Please join us at 11 a.m. this morning in observing a moment of silence to remember the men and women who have courageously fought, and continue to fight, to keep our country strong, proud and free.