Columbia International College has partnered with Blue Line Taxi to implement a new safety measure – Emergency Taxi Vouchers.
The school will provide new students with an Emergency Taxi Voucher to ensure that they have a safe method of transportation in an emergency situation. This new safety measure is also designed to provide students with a sense of security when they venture off-campus.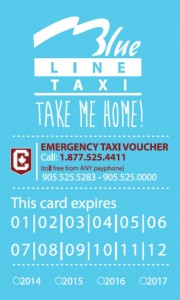 Use of the voucher
Students who find themselves in an unfamiliar place can call the toll-free number on the card for a free ride back to their residence or the Ainsliewood building. New students will receive the card in their residence welcome packages and can redeem it for one ride within the Hamilton-Wentworth region.
Safety at Columbia
Student safety is top priority at Columbia. We are committed to the safety and well-being of our students and strive to provide students with a comfortable and safe learning environment.
To learn more about safety measures practiced at Columbia, visit the Safety section of our website.