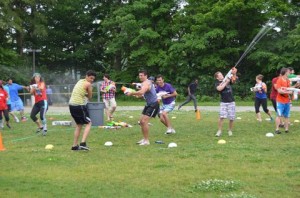 In an epic battle this afternoon, Columbia's students and staff members suited up to participate in the annual student vs. staff water balloon rumble!
With the back field divided, students and staff took their positions and were eager for the game to start. Round after round, both students and staff showed no mercy towards the opposing team and were drenched by the end of the game. Class schedules were also changed to accommodate the activity and to give all an equal opportunity to participate in the water fight.
The outdoor event was a means to foster a sense of community amongst students. Along with taking a break from the classroom, those who participated were also helping the community as water balloons were purchased to help a local organization. This year, students and staff purchased five water balloons for $1 with all proceeds going towards the NGen Youth Centre in Hamilton. Approximately 6000 water balloons were created and sold for the event.
NGen Youth Centre 
The New Generation Youth Centre is a Hamilton organization that welcomes youth from all walks of life and encourages them to work together and build community while developing their leadership skills.
NGen offers youth a positive space where they can be themselves and empowers them through mentorship and teamwork programs.
To learn more, click here.
Thank you to Student Development, the student volunteers and all those who participated in the game.