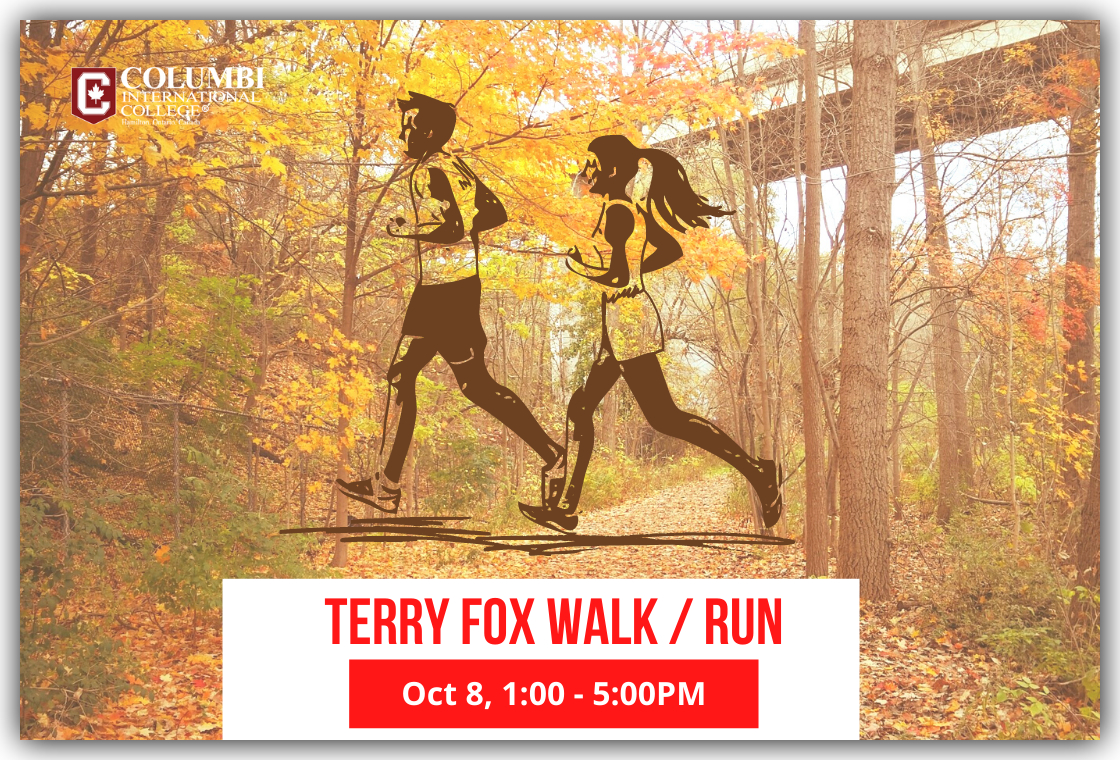 CIC's Terry Fox Walk will take place on October 8 – Thursday at 1:00pm EST for students living in our Residences. There are over 200 students signed-up so far.  Students will walk or run in groups of 8 accompanied by a CIC staff on October 8. Other than honouring Terry Fox, students will also earn 3 hours of community service.
Canadians have kept Terry Fox's dream alive for 40 years 
Terry Fox was a young Canadian man who was diagnosed with cancer at 18 years old. He had one leg amputated and dreamed of a world without cancer.  Terry decided to run across Canada to raise awareness and funds for cancer research. His journey was called the Marathon of Hope and became a Canadian tradition for 40 years now.
We want your photo on Terry Fox
Every year students join walks and events to keep the Terry Fox Marathon of Hope alive.  Students living off-campus anywhere in the world are invited to join and take a Walk for Terry Fox. Wear red & white! Direct Message CIC Instagram (Columbia.International.College) and drop your pictures. We want to see you!
Terry Fox is also a CIC tradition
Mrs. Cathy Cheeranjie, Head of Student and Leadership Development (SLD) at CIC told us that her team felt that this year, because of the COVID-19 Pandemic, we have even more reasons to celebrate Terry's Marathon of Hope. "That's the spirit here at CIC, a message of hope".
CIC is one of only 6 schools worldwide that has participated in the Terry Fox Run for 40 years.
Student participation and Leadership Development
Our student Prefect Tega, from Nigeria, told us that Leadership and Prefects teams supported SLD in organizing this year's walk and every group had different roles.Tega helped with after event drinks and snacks. He conducted surveys to involve more students. He mentioned that Bubble Tea was very popular among students.
This year's special adjustments because of the pandemic
The walk will take place on a trail close to the Residence rather than the Waterfront where it was usually held so students are not exposed to the community. Tega also helped organize the check-points during the walk where students will be kept on track.
How Student Leadership Development helps students grow and have fun 
"All activities and events have been adjusted to respect social distancing and health protocols but still allow students to have fun and a sense of community", says Mrs Cheeranjie.
SLD has been engaging students in extracurricular activities and it's having a positive impact on both on-campus and off-campus students. With over 100 different clubs and activities after school and in the Residences there is something for everyone. Off campus students are part of Model United Nations and Leadership online clubs and workshops.
Friday, October 2nd  we have a movie day playing 3 different movies voted by students: Inception, Avatar and Now See Me.
We are also showing the NBA play-off games.
Coming next, the Duke of Edinburgh ronze level group (about 27 boys and girls) will have a modified version of the adventure and camping trip. They will stay locally and camp at our Northcliffe campus grounds.