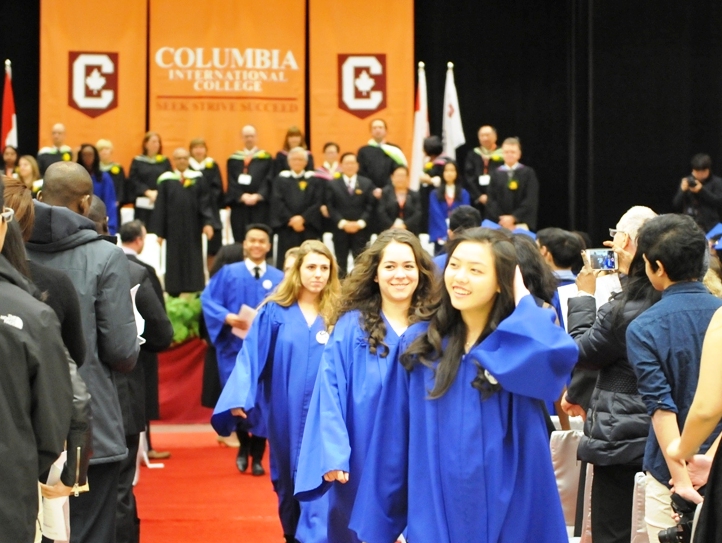 On Dec 15, families, guests, teachers and staff cheered with joy for nearly 150 proud graduates during Columbia International College's third graduation ceremony of the year.
Victor Oh, Senator for Ontario with Conservative Party of Canada, took to the podium to present the opening remarks. He offered sincere congratulations to the graduating class for starting a new chapter of their lives. "Canada is the best place to live in the world," he said, "Get involved in the public life; you will find it is very rewarding to serve your country, to make life better for your next generation."
Dr. Stephen Watt, Dean of the Faculty of Mathematics of University of Waterloo, delivered an inspiring keynote speech. He used driver-less vehicles as an example and explained why we must learn to look ahead into the future trends and developments. He encouraged the graduates to have a passionate direction and follow that. "Don't just think of the obvious step," he said, "but also what comes after that."
Representatives from renowned universities including Brock, McMaster, Ryerson, UOIT, U of T, Laurier and York were also on the stage to witness the special moment and present diplomas, awards and scholarships.
In her Valedictorian Address, Deborah Akpoguma delivered a strong message. "Always try to be positive." She said, "In the end you'll find being positive even in difficult times does not only make your journey to success quicker, it also makes you stronger."
Ruiqi Lyu was voted by her peers to propose the Vote of Thanks. She extended her appreciation to parents, teachers and staff who helped them to come to this milestone.
Approximately 30% of the December graduates earned the title of "Ontario Scholar" for attaining an average of 80% or up in the six best Grade 12 courses. They also took active roles in volunteer opportunities and earned a total of 5,418.25 community service hours. We would like to congratulate them on their commitment to improving Hamilton's local communities.
Congratulations Class of December 2015! And we thank our teachers and staff whose contributions make Columbia one of the best private high schools in Canada.