Today (June 21), the annual Junior Middle School (JMS) 'End of Year Award Ceremony' was held @ The Grill located in the Ainsliewood Building of Columbia International College.
The ceremony, which began promptly at 10:00am, kicked off in style with the beautiful melodies of Mr. Lawlis' soon-to-be graduating Vocal Music Class' rendition of the Canadian Anthem, 'O Canada.'
Shortly after, Mrs. Denice Garell-Teti, Head of CIC's Junior Middle School program took the stage to deliver the opening remarks.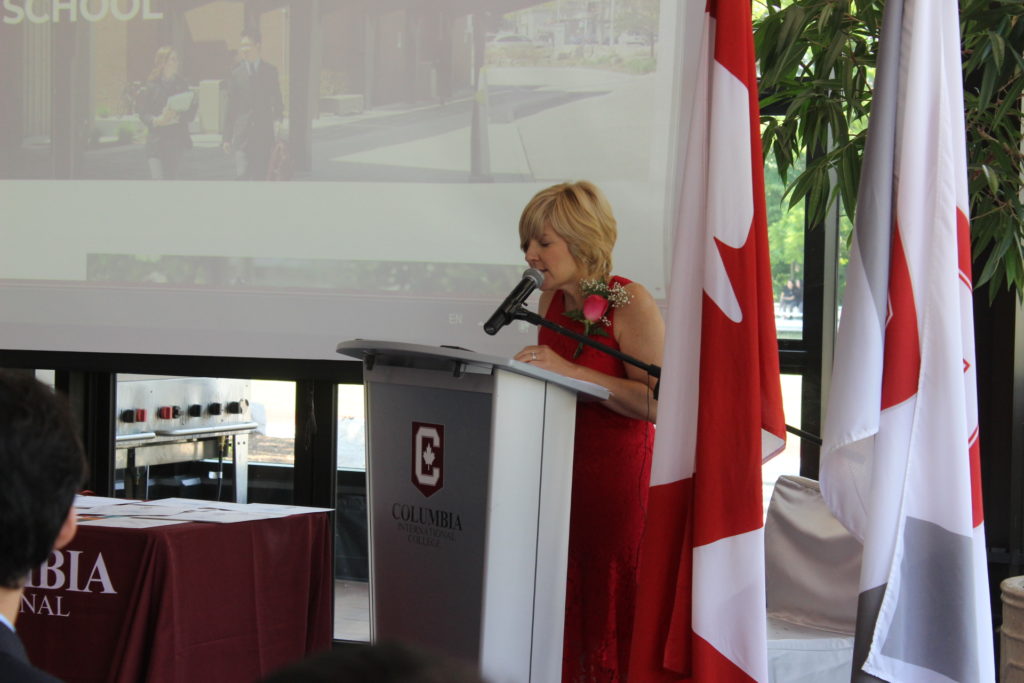 With the ceremony in full swing, the Principal of Columbia International College, Mr. Bill Ironside, gave the Keynote address to a very pleased, very entertained audience.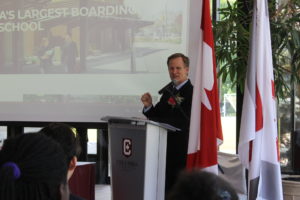 During his address, Mr. Ironside shared with the audience his dreams whilst in middle school. Then referred to as Billy, he dreamt of becoming a tennis player, just like Serena Williams.
Facing the JMS students, he asked 'What are YOUR plans?' As, the future, he said, "was in their hands." Mr. Ironside then proceeded to surveying the JMS students, asking which of them would become a doctor, an engineer, or get into the arts. For every question, at least one JMS student stood proudly, as the crowd showed them love by clapping.
Mr. Ironside offered some words of advice to the graduating JMS class. Here are the five little habits / choices he shared:
H

eart – Have a big heart

E

ffort – Always make the big effort. "Just do it," like the Nike Brand. Take it a bit further and "Just do it well."

A

ttitude – Maintain a positive attitude. "I can is better than IQ."

R

elationships – Establish strong relationships.

T

ime – Time is precious, live in the moment. Enjoy the moment that you're in.
Mr. Ironside ended his address thanking the parents in attendance (and those who couldn't make it), as well as the teachers who have and continue to guide and educate the students. To the teachers, he said: "Thank you so much for not just standing in front of the class and lecturing, because you're knowledgable." he said. Adding, "Thank you for believing in the students and doing a great job with student-centered teaching."
—
Mr. Ironside's address was followed by an address by an alumni of the JMS Program. This year, the JMS alumni selected for the address was Miss. Elizaveta G.  Originally from Russia, Miss Elizaveta began her CIC journey in 2013. Two years after arrival, she concluded her run as a JMS student, moving on to high school in CIC.
It is now 2018 and Miss Elizaveta is on her way to university, having maintained an average of over 95, garnering over 400 community service hours, admission offers from some of Canada's Top Universities (Rotman Commerce, McMaster University, etc.) and being awarded $77,000 in University Entrance Scholarships.
During her address, Miss Elizaveta used her own experiences as a CIC student to encourage her former peers! "I was not a stranger to the school," she said. To the graduating Grade 8 students, she gave amazing advice having had to transition from JMS to High School. "I want you to dream and I want you to dare." She continued: "I want you to try new things everywhere. Whether it is to sit with new people at lunch or go skydiving. I want you to make mistakes and not be frightened by them because I know you will stand up and keep going, just like everyone else. Beautifully ending her address, she told the students to live their lives to the fullest and be the "card dealer" in their lives.
At this junction of the ceremony, several awards were given to the students for their endless months of hardwork through the semester.  Some students walked away from the ceremony having received over five (5) awards, whether it be academic or residence awards.
Anchored by the Vocal Music Class, The JMS Band, led by Mr. Lawlis, showcased their ukulele skills, playing several notes as the Vocal Music Class sang the classic 'Somewhere Over The Rainbow.' The performance, thereafter, was followed by a little goodbye song by a JMS student to his fellow students.
Though there were many memorable moments during the ceremony, a video of the Bridging program (Grade 5 – 6), put together by Ms. Jennifer Oraham was definitely the most memorable. Needless to say, here is a video of the JMS Bridging Program that will make your day:
With the ceremony coming to an end, Miss Assol B. (one of the graduating Grade 8 students) took the mic for the Vote of Thanks. While on stage, an emotional Miss Assol thanked everyone who so much as said hello to her while she was a JMS student here at CIC.
She thanked the residence staff for looking after her. She also thanked her "astonishing" teachers for helping her out whenever she needed help, thus made her succeed through her journey as a JMS student. Notable, Miss Britiviva spoke about the small classes here at CIC, referring to them "convenient" as being in small class helped her and her fellow peers build a much closer relationship with their teachers. 
Mrs. Denice Garrell-Teti, the Head of the JMS program also got a shoutout during the vote of thanks. Looking towards Mrs. Garrell-Teti, Miss Assol said: "She is a great leader and an even better listener. She has always listened to any problem I had and tried her best to solve them."
After thanking her parents (and wishing her Dad a Happy Birthday), she thanked her "lovely" friends and fellow JMS students for always making her days better and changing her as a person. "Overall my experience at CIC was a rewarding journey that I would never forget." Here, I learned to be more independent, respectful, responsible, and strong." She continued: "I also learned that it is important to make my voice heard and share all of my opinions, even those I thought I should never [share]."  A very bold and intelligent Miss Assol concluded her speech by thanking CIC for opening a "new path to a bright future"  and providing her with exactly what she needed to step into the next season of her life. "Goodluck and congratulations," she said, as she walked off the stage.
Ending the ceremony on a high note, Mr. Lawlis' Vocal Music Class belted out their rendition of Natasha Bedingfield's "Unwritten."
Rewatch the entire award ceremony below!