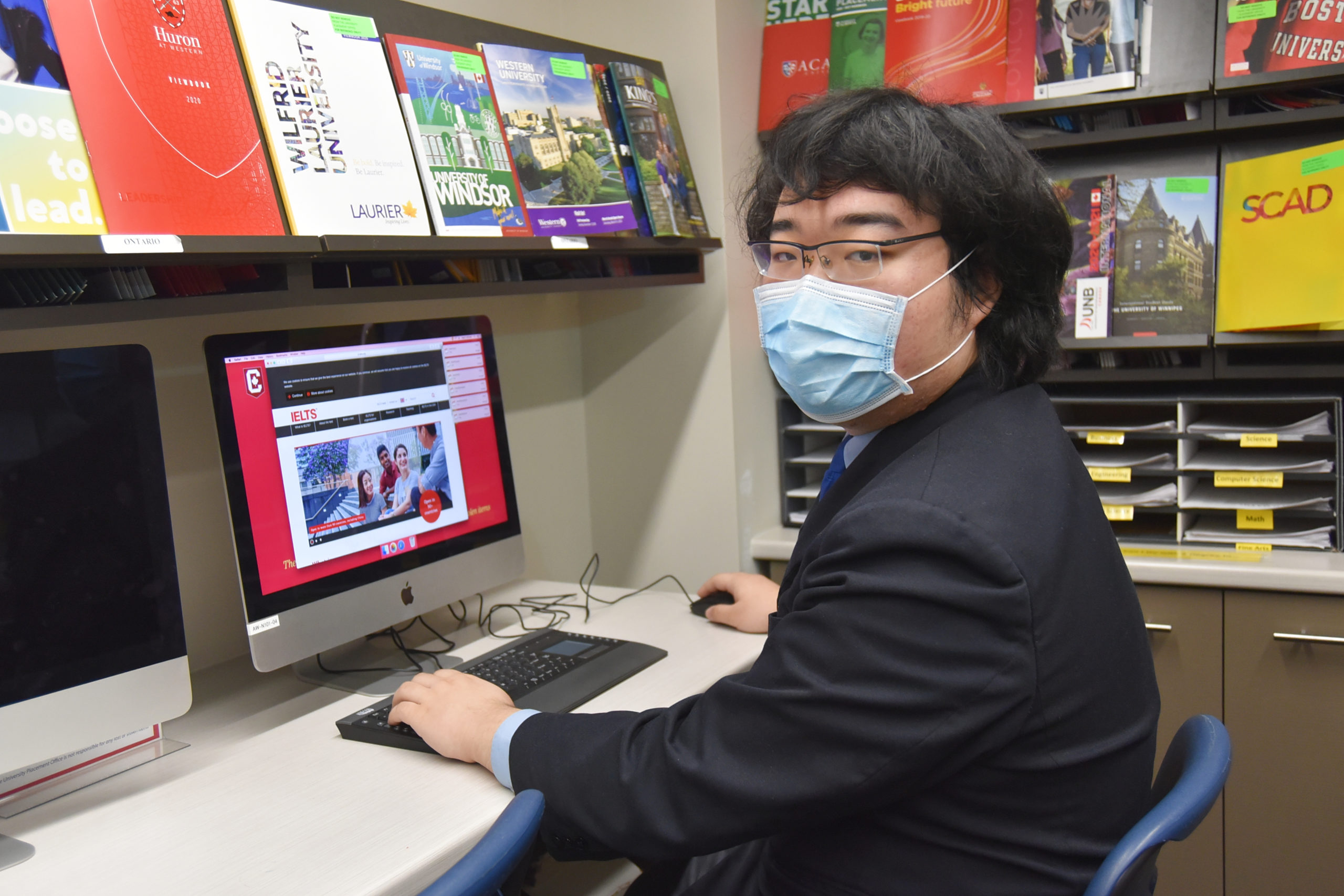 Justin is a Grade 12 student who came to CIC from Tianjin, China in 2018. He will be graduating in May 2021 and took IELTS for the first time last week (September 26) when we reopened our  IELTS Test Center.
Separate IELTS test date for better protection
CIC students are protected by forming their own bubble.  They have exclusive test dates, separate from external IELTS candidates, so they are not exposed to the possibility of cross-contamination from the outside community.
Why should students take IELTS earlier?
Mrs. Terra Arnet, Head of Guidance and University Placement Services told us that her team recommends students to take IELTS as early as possible. "Leaving it to the last minute can add stress and extra pressure".
Most universities have a deadline around February and March 1 for IELTS scores to be submitted for admissions consideration of programs starting in September. "When students take it earlier they are more relaxed and have time to take the test again if needed. It's great if the students can get it done before December."
Convenience and safety during IELTS exam at CIC
Justin shared his experience from taking the test last week and told us about all the support he received from the Total Care team, starting  from a wake-up call and special breakfast scheduled for all test candidates in the Residence before the test.
"I'm happy with my IELTS experience and felt extra safe with all the health and safety protocols in place."
The CIC IELTS Test Centre is located just 3 minutes walk from Pine Residence and all the  students can walk leisurely over after breakfast.
All safety precautions are in place at the test centre – sanitize hands, check temperature and sit 2 meters apart. The same happened for the Speaking portion of the test when students and examiners were separated by an extra plexi-glass screen.
During the pandemic, students are to bring their own pencils and erasers which are no longer provided by the test center.
How CIC supports students preparing and taking external tests
CIC supports students with proficiency test registration, preparation (workshops) and all the logistics involved, including sending scores to universities after the scores have been issued.  Most universities require an IELTS score of 6.5 overall with no band lower than 6.0.
More information on IELTS: www.cic-totalcare.com/ielts
CIC IELTS Workshop Schedule
(Oct , 2020)